We are Financial Professionals
%%COMPANY NAME%% aims to provide the families and businesses with innovative financial strategies, in an effort to provide financial clarity, solutions, and improve your quality of life. Schedule Complimentary Analysis
Financial & Insurance Services
Our mission is to work closely with our clients to design financial strategies that provide confidence and clarity while also helping to protect their future. Using customized plans that are created through a true partnership, we empower our clients to weather the inevitable challenges that our complex financial world presents.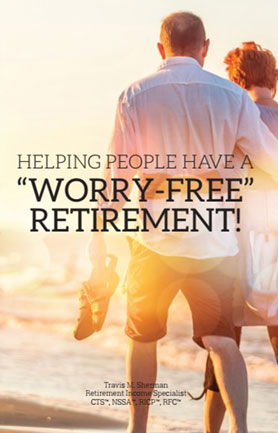 Financial Author

Travis Sherman
Color of Money
Risk Analysis
The Color of Money Risk Analysis was designed to help you better understand how your long-term goals should impact the financial decisions you make today. You can get your Color of Money Score by answering 11 simple questions!
Travis M. Sherman

Father, Husband and Retirement Income Certified Professional
I am a follower of Christ, a husband and a father of two girls. In addition, I am a multiple time IRONMAN Triathlon Finisher, an elite level (Category 1) cyclist, an Eagle Scout and a Army ROTC Scholarship Recipient. Professionally, I am a Retirement Income Certified Professional and a Registered Financial Consultant with professional designations and training in Social Security Claiming Strategies and Income Taxes. For over 21 years, I have been helping people craft the worry-free and stress-free retirements that they have always dreamed about. It would be my absolute pleasure to enjoy a cup of coffee and have a conversation with you.
Generational Vault never sleeps; it's your 24-7-365 access to your accounts and important documents all in one place! Reach out to us today to discuss how Generational Vault can help you organize and safeguard the most important documents in your life.
Schedule Your Complimentary Analysis